Founded in 2004 by Elaine Leveille, ERA Vintage Wear INC. is a sustainable vintage fashion boutique based out of Montreal, Quebec.
At ERA, vintage means using unique older pieces to create a contemporary, one-of-a-kind style, with ''almost'' no rules as to how to achieve it! 
By analyzing what designers are strutting down their runways and fashion editors are showcasing in their magazines, we find the original pieces that are the underlying beauty of the designs we create at ERA .

With our unmatched design capabilities, we transform pieces from the 1920's to the 90's that have inspired the latest trends, as well as merging pieces of various decades that compliment each other in order to showcase the artistic designs that are the essence of ERA.
When you shop at ERA, we guarantee all our pieces have been redesigned using sustainable methods and nothing EVER goes to waste; many tops and skirts were originally sleeves we didn't like, or the bottom of a dress we reworked into a mini; every inch of fabric has a purpose in our creative process.

Being an #eragirl means you can feel confident wearing our one-of-a-kind designs that align with our philosophy supporting positive environmental impact.

We hope you love ERA as much as we do!
- The ERA Team (Elaine & Emmanuelle)
We are all about style but sustainability is just as important. We have always stayed true to the 3 R's: REDUCE. REUSE. RECYCLE - nothing goes to waste when you shop at ERA. Even when we deconstruct a dress to turn it into a skirt and top set, there is always something we can use the extra fabric for. Whether we need to add piping under a skirt or create sleeves for a blouse, our materials are always repurposed and brought to life during the creative process at ERA.

We spend relentless hours repairing, redesigning, and completely reconstructiong all of the designs you will find in our collections. We bring a Ready-to-wear vintage piece with a contemporary flair.
We take pride in how we achieve a balance between the uniqueness of vintage and bringing it to the next level: a one-of-a-kind personal statement. After 16 years we have mastered the art of vintage.
SOCIAL MEDIA, WEB & GRAPHIC DESIGN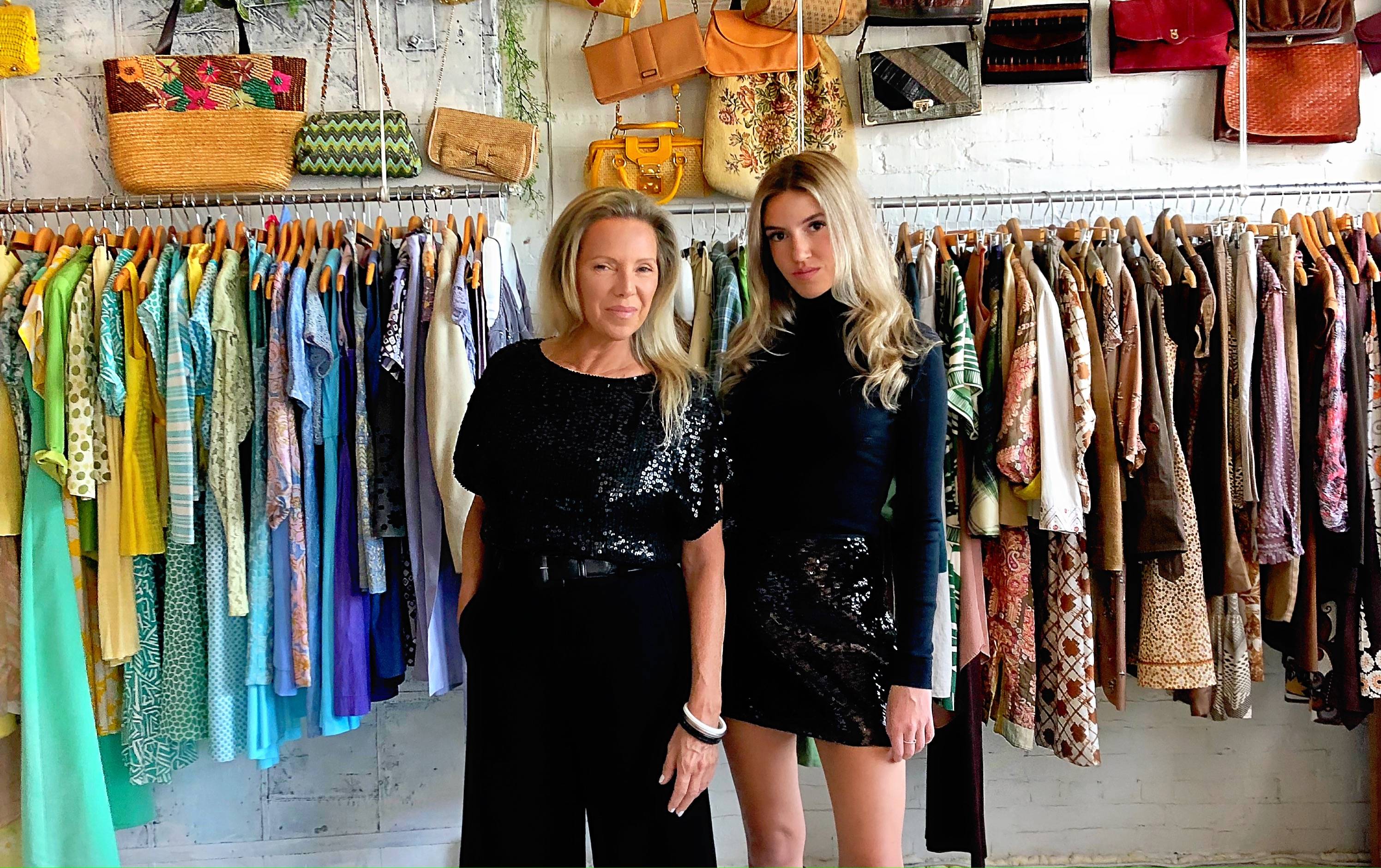 THE ARTIST BEHIND ERA, ELAINE
With over 30 years of experience in fashion, Elaine's expertise in the world of style goes unmatched. After getting a Bachelors in Architecture and Design, Elaine obtained her masters in painting and drawing from Concordia University in Montreal. Not only is she the #ladyboss of ERA, Elaine is the designer behind the unique pieces we create. With years of experience in the fashion and art world, Elaine has a superior understanding of all things design and style related. Having worked as an art consultant and a trend analyst for major fashion houses around North America, before she started ERA in 2004, Elaine's unique comprehension and love for art never goes unnoticed in everything we do.
Elaine Leveille
eravintagewear@gmail.com
514-543-8750
Emmanuelle Rochefort
embyeravintage@gmail.com
514-927-1471